About forty kilometers (25 miles) south-east of Siena towards Grosseto in an isolated valley among Siena's hills, lies an antique Medieval Cistercense Abbey, now desecrated and partly in ruins. About ten minute walking up the hill of Montesiepi there is a small, circular chapel where one of the most fascinating and mysterious relics of the entire region of Tuscany is kept: the sword in the stone of Saint Galgano.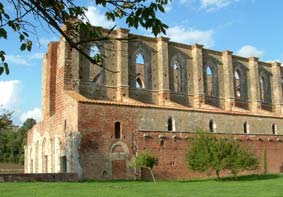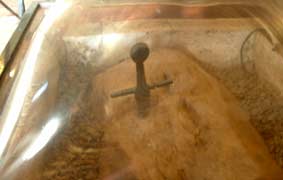 A jagged piece of rock protrudes from the center of the tile floor of the chapel and in it lies the famous sword. The cross-shaped sword has been proven to date back to 1170. In the chapel there are even some frescos from the 1300's which depict the chapel itself. The sight, to say the least, is evocative and immediately brings to mind the well-known legend of King Arthur and his sword in the stone. That's not a coincidence. Now lets look at the history of the events.

Galgano was a young knight born a few kilometers from the city of Siena, in Tuscany in the year 1147. The legend says that one night Galgano had a vision of the archangel Michael. The archangel was guiding him down a narrow and difficult path to Montesiepi where he was eventually greeted by the twelve apostles in front of a circular-shaped temple. Galgano interpreted this vision to be a sign of the divine wish of God. In fact, some time later this isolated place became his new and definitive residence as a hermit. History tells us that he went to the hill of Montesiepi, abandoned his past as a knight and drove his sword into a stone. The sword was driven so deeply, and with such great force, that only the handle, appearing in the shape of a cross, remained visible on the surface of the stone. That sword is still there and has served as a symbol of an incorruptible conversion for the last 800 years.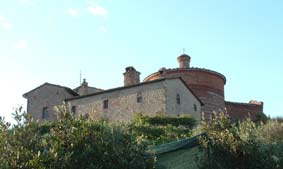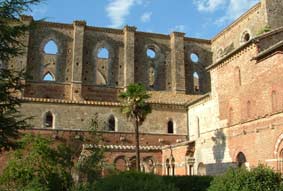 Aside from the utter amazement of the sword, there is another extraordinary aspect to this story. This is the possibility that the myth of the sword in the stone, known for being tied to the saga of Britain's King Arthur, could have originated right here in Tuscany and later have been exported to France to become the famous legend of King Arthur. Some factors make this hypothesis a plausible reality.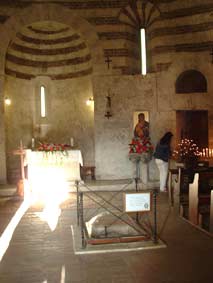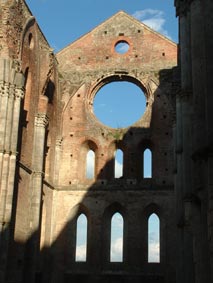 Both the Cistercense Abbey and the chapel dedicated to Saint Galgano are of the same time period of King Arthur's tomb in Glastonbury. This discovery must have resonated throughout Europe. From history we know that the "Cistercense" Monks were the key divulgers of King Arthur's story. We must ask ourselves if the Monks were responsible for dispersing the echo of Arthur's legend in Tuscany or rather, was the story born in Tuscany and later adopted into Britain's history. Before leaving you I'd like to remind you about some 15th century's paintings by Taddeo di Bartolo which are kept in the National Museum in Pisa, depicting the life of Saint Galgano.

Damiano Andreini