One of the most beautiful country itineraries, in the Elsa Valley (the heart of Tuscany), will take you straight to... Jerusalem: Around the end of the fourteen hundreds, in the forests of these hills there was an old church built in memory of a hermit monk whose name was Vivaldo. Vivaldo lived about one hundred years before the church was built and the people said that he lived in a small cellar made from the trunk of a chestnut tree.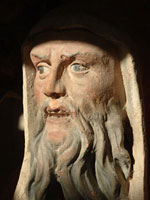 In the fifteen hundreds, the church was almost in ruins so the Franciscan monks started the restoration process. They didn't limit the project to just the restoration of the church but they mobilized the enthusiasm of the local population and enclosed the church in an ambitious project which was to transform the hill and the forest of San Vivaldo into a small copy of Jerusalem for the pilgrimage of the faithful.

I'd like to remind you that we are in the Elsa Valley, an area that in that time was crossed every year by hundreds of pilgrims that were going in the direction of Rome. The idea to construct a Jerusalem in Tuscany was decided upon by a cultured Franciscan of Florence whose name was Tommaso. He lived in Palestine for many years so he knew the buildings and the famous places of the Holy City very well.

In a few years, in the forest around the small church, over thirty small chapels were built. They were faithful reproductions of the places in Jerusalem which had accompanied the last events of the life of Jesus Christ. Such as: the Holy Sepulchre, the Mount of Affliction, Pilate's House, and Mount Zion. Today there are just twenty of these many chapels remaining and in every one of them there are large, painted terra cotta statues that represent a particular event of Jesus' life.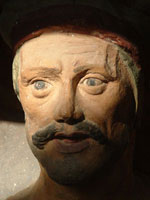 They range from the Last Supper to the Capture, and from the Crucifixion to the Resurrection. The illusion is not over yet. In fact before the construction of the chapel, the hill terrain of Saint Vivaldo was skilfully modelled to resemble Jerusalem's topography exactly. Recently someone placed both maps together and realized that they were in fact, identical! The effect in the silence of that forest is incredible.

As soon as you enter inside the chapel you will have the feeling that the event is about to happen. This was, without a doubt, the objective of Tommaso the monk, the creator of the entire project. He wanted to set the pilgrim down into an impressive theatrical representation of the holy writings.



Damiano Andreini