It's one of the greatest architectural accomplishments in Tuscany which can be reached coming from Pisa going towards Florence. It is only a few kilometres away from the city of the Leaning Tower.

The monastery complex was built in 1366 at the base of Mt. Pisano (910 meters above sea level) and was expanded in the 1600's. On the inside, the church and the garden area were actually used in many films, such as the "Little Devil" with Roberto Benigni.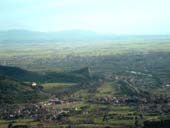 Inside the complex, a guardian will show you the places that were the most important aspects of the monks' lives. The dining hall where the monks had to eat in silence without even looking at one another and the little church where the most important decisions regarding the monastery were made can still be seen.

The little compartments at the bottom of each pew in the church used to hold hot ashes to warm the monks feet while they sang can also still be seen. Ok, I can't reveal all the secrets, so I'll stop here.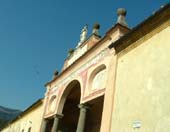 The monastery is open until the evening so I suggest that you visit it in the evening hours when the stone and decor is illuminated by the quickly fading red glow of the setting sun. The contrast of the blue sky and the green olive trees with this image will absolutely take your breath away.

Damiano Andreini